All Courses

CompTIA

CompTIA A+ Certification
The CompTIA A+ certification is the first step of your professional IT journey. It's the ideal foundational certification to get started on a career working with cutting-edge information technologies. It covers mobile, tablets, laptops, desktops and beyond. The exam verifies an individual can troubleshoot networking and security issues within operating systems such as Apple, Android, Windows and more.
CompTIA A+ certification validates foundation-level knowledge and skills necessary for a career in IT support. It is the starting point for an exciting career in IT. The international, vendor-neutral certification proves competence in areas such as installation, preventative maintenance, networking, security and troubleshooting.
The A+ certification is your entry ticket into the IT World. 92% of employers require IT for entry level IT positions. Candidate job roles include technical support specialist, field service technician, IT support technician, IT support administrator and IT support specialist. CompTIA A+ is part of the certification track for corporations such as Microsoft, HP and Cisco. Other technology companies, including Dell, Intel, Lenovo and Ricoh, have made CompTIA A+ certification mandatory for their service technicians.The U.S. Department of Defense recognizes CompTIA A+ and the Department of Homeland Security requires A+ for anyone working in an IT environment.
With over 898,000 A+ certified worldwide and an average salary of $64,750*, this certification can open the door to a career as a:
Remote Support Specialist
Deskside Support Specialist
Bench/Depot Technicia
PC Technician
CompTIA A+ Essentials measures the necessary competencies of an entry-level IT professional with a recommended 500 hours of hands-on experience in the lab or field. It tests for the fundamentals of computer technology, networking and security, as well as the communication skills and professionalism now required of all entry-level IT professionals.
CompTIA A+ Practical Application is an extension of the knowledge and skills identified in CompTIA A+ Essentials, with more of a "hands-on" orientation focused on scenarios in which troubleshooting and tools must be applied to resolve problems.
Module 1
0 • Introduction
1 • Computer System Components
1.2 • Storage Devices
1.3a • Device Connections & Interfaces
1.3b • Device Connections & Interfaces (cont'd)
Module 2
2.1 • Personal Computer Operating Systems
2.2 • Windows Control Panel Utilities
2.3 • Command Line Tools
2.4 • Windows Security Settings
2.5 • Windows Operating System Tools
Module 3
3.1 • Basic Maintenance Tools & Techniques
3.2 • Electrical Safety
3.3 • Environmental Safety & Materials Handling
3.4 • Professionalism & Communication
Module 4
4.1 • Install & Configure Display Devices
4.2 • Install & Configure Input Devices
4.3 • Install & Configure Expansion Cards
4.4 • Install & Configure Multimedia Devices
Module 5
5.1a • Motherboards
5.1b • Motherboards (cont'd)
5.2 • CPUs & Cooling Systems
5.3 • Select & Install Power Supplies
5.4 • RAM Types & Features
5.5 • Install & Configure Storage Devices
5.6 • Configure the System BIOS
Module 6
6.0 • Intro to Module 6
6.1 • Implement Virtualization
6.2 • Install Microsoft Windows
6.3 • Windows Upgrades
6.4 • Windows Preventive Maintenance
Module 7
7.0 – Intro to Module 7
7.1 – Standard Clients
7.2 • Custom Client Environments
Module 8
8.1 • Physical Network Connections
8.2 • TCP/IP
8.3a • Network Connectivity
8.3b • Network Connectivity (cont'd)
8.4 • Ports & Protocols
8.5 • Set Up & Configure Windows Networking
8.6 • Networking Tools
Module 9
9.0 • Intro to Module 9
9.1 • Install & Configure SOHO Networks
9.2 • SOHO Network Security
Module 10
10.0 • Intro to Module 10
10.1 • Laptop Hardware & Components
10.2 • Install & Configure Laptop Hardware Components
Module 11
11.0 • Introduction to Module 11
11.1 • Mobile Device Technologies
11.2 • Configure Mobile Devices
Module 12
12.0 • Intro to Module 12
12.1 • Printer Technologies
12.2 • Install, Configure, & Maintain Printers
Module 13
13.0 • Intro to Module 13
13.1 • Securities Fundamentals
13.2a • Security Threats & Vulnerabilities
13.2b • Security Threats & Vulnerabilities (cont'd)
13.3 • Security Protection Measures
13.4 • Workstation Security
13.5 • Securites Wrap Up
Module 14
14.0 • Intro to Module 14
14.1 • Troubleshooting Theory
14.2 • Troubleshoot Video & Display Devices
14.3a • Troubleshoot System Components
14.3b • Troubleshoot System Components (cont'd)
14.4 • Troubleshoot Laptops & Printers
Module 15
15.0 • Intro to Module 15
15.1a • Troubleshoot Operating Systems
15.1b • Troubleshoot Operating Systems (cont'd)
15.2 • Troubleshoot Wired & Wireless Networks
15.3 • Troubleshoot Common Security Issues
15.4 • Conclusion
Test Details

Exam Codes

CompTIA A+ 220-801 and CompTIA A+ 220-802
CompTIA A+ JK0-801 and JK0-802 (for CompTIA Academy Partners Only)


Number of Questions

Maximum of 90

Type of Questions

Multiple choice and performance-based

Length of Test

90 Minutes

Passing Score

CompTIA A+ 220-801: 675 (on a scale of 900)
CompTIA A+ 220-802: 700 (on a scale of 900)

Recommended Experience

Six to 12 months hands-on experience in the lab or field

Languages

English, Japanese, German, Thai, Spanish,
Simplified Chinese, French, Arabic, Brazilian Portuguese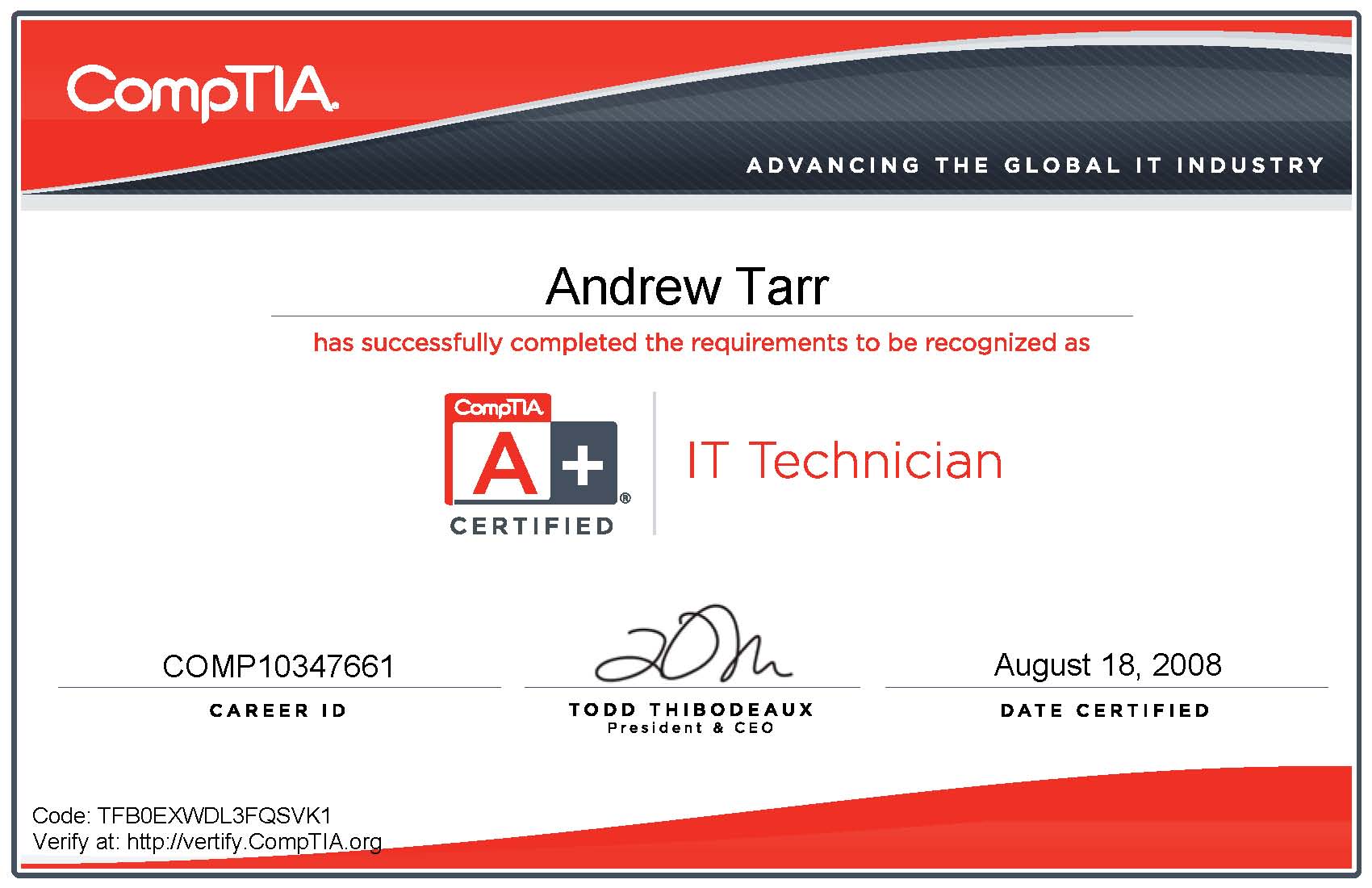 QUICK ENQUIRY
91-95007 10004
helpdesk@kalvigroup.com
91-95432 18687
helpdesk@kalvigroup.com