All Courses

CompTIA

CompTIA Network+ Certification
Network+ is an ISO-17024 compliant, vendor-neutral technology certification that verifies the certified individual has the skills and knowledge needed to take on a pivotal role in building, managing, and protecting the critical asset that is the data network.
A new version of Network+ (N10-006) will launch on February 28, 2015. The new exam has been updated to reflect the current thinking of industry professionals as well as to reflect technologies used today, with a greater emphasis on practical knowledge, especially how to identify and use elements of a network infrastructure. Significant changes include:
Additional IPv6 concepts.
Emphasis on troubleshooting.
Additional security knowledge.
Knowledge of how to administer key systems.
The main differences between CompTIA Network+ N10-005 and Network+ N10-006 are the following:
Updated terms and technologies in the IT networking field.
More hands-on experiences such as installing, configuring, implementing, managing and troubleshooting.
Three new topics:
Compare and contrast physical security controls.
Summarize basic forensic concepts.
Summarize safety practices.
Companies such as Dell, HP, Ricoh, Sharp and Xerox recommend or require CompTIA Network+ for their networking technicians. It is also a technical prerequisite option for IT technicians seeking to join the Apple Consultants Network, and is recognized by the U.S. Department of Defense.
The CompTIA Network+ce program is included in the scope of this accreditation, and may be kept current through the CompTIA Continuing Education program.
Module 1 – Networking Concepts
Section 1 – Models and Devices
Logical vs Physical
The OSI Model
The TCP/IP Model
OSI vs TCP Models
Common Devices
Bridges
Routing and Switching
Routing Terms
Routing Protocols
Switching
Summary
Section 2 – Network Addressing
Addressing
IPV4 and IPV6 Examples
IPV4 Classes/Ranges
IPV4 Private Address Spaces
Special Addresses
Binary Primer
Classful Addresses
Subnetting Basics
Classless Addressses
Summary
Section 3 – Ports, Protocols and DNS
Ports and Protocols
Common Ports
Common Protocols
Domain Name System
Google Servers
Record Types
Recursive Query
Iterative Query
Disabling Recursion
Summary
Section 4 – Virtual Networks and Troubleshooting
Virtual Networks
VN Components
Network Troubleshooting
OSI/TCP Models
Ping Demo
IPconfig Demo
NSlookup Demo
NetStat Demo
Terminal Demo
TelNet Demo
Putty Demo
Utilities Demo
Summary
Module 2 – Installation and Configuration
Section 1 – Switches and Routers
Basics
Switches
Routers
Hardware
Router and Switch Problems
Summary
Section 2 – Wireless
Wireless Installation Concepts
Wireless Standards
Common Wireless Problems
Field Experience
Summary
Section 3 – Dynamic Host Configuration Protocol
Basics
Process
DHCP Options Demo
Summary
Section 4 – Small Office/Home Office
SOHO Requirements
Cable Requirements
Device Requirements
Equipment Limitations
Compatibility Requirements
Summary
Module 3 – Media and Topologies
Section 1 – Standard Media and Connectors
Types and Properties
Transmission Speeds
Plenum and Broadband
Media Converters
Standard Connectors
Copper Connectors
Ethernet Cables
Physical Problems
Summary
Section 2 – Wide and Local Area Networks
WAN Types
WAN Properties
LAN Types
LAN Properties
Wiring Distribution Components
Summary
Section 3 – Network Topologies
Standards
Channelization
Latency
Network Topologies
Star and Hybrid
PTP
MPLS
Summary
Topologies Demo
Home Office Demo
Cloud/NaaS Demo
Small Office Demo
Medium Office Demo
Module 4 – Network Management
Section 1 – Documentation and Monitoring
Documentation
Configuration Management
Network Monitoring
Network Appliances
Summary
Section 2 – Hardware and Software
Hardware Tools
Software Tools
Summary
Section 3 – Performance Optimization
Module 5 – Network Security
Section 1 – Wireless Security
Encryption Keys
Symmetric Key
Asymmetric Key
Wireless Encryption
Filtering
Device Placement
Summary
Section 2 – Network Access
Access Control List
Tunneling/Encryption
Remote Access
Authentication
Summary
Section 3 – Threats and Mitigation
Wireless
Attack Types
Viruses
Mitigation
Summary
Section 4 – Appliances and Physical Security
Firewalls
Rules
Appliances
Physical Security
Summary
Course Review
Test Details

Exam Codes

N10-005
JK0-019 (for CompTIA Academy Partners only)

N10-006
JK0-023 (for CompTIA Academy Partners only)

Launch Date

1-Dec-11

28-Feb-15

Number of Questions

Maximum of 100 questions

Maximum of 90 questions

Type of Questions

Multiple choice and performance-based

Multiple choice and performance-based

Length of Test

90 Minutes

90 Minutes

Passing Score

720 (on a scale of 100-900)

720 (on a scale of 100-900)

Recommended Experience

CompTIA A+ Certification
(9) months of networking experience
CompTIA A+ Certification
(9) months of networking experience

Languages

English, Japanese, German, Simplified Chinese, Korean, Spanish, Traditional Chinese

English at launch (2/28/15) Japanese and German - in development

Retirement

English Version 8/31/2015
All other languages: 12/31/2015

TBD - Usually three years after launch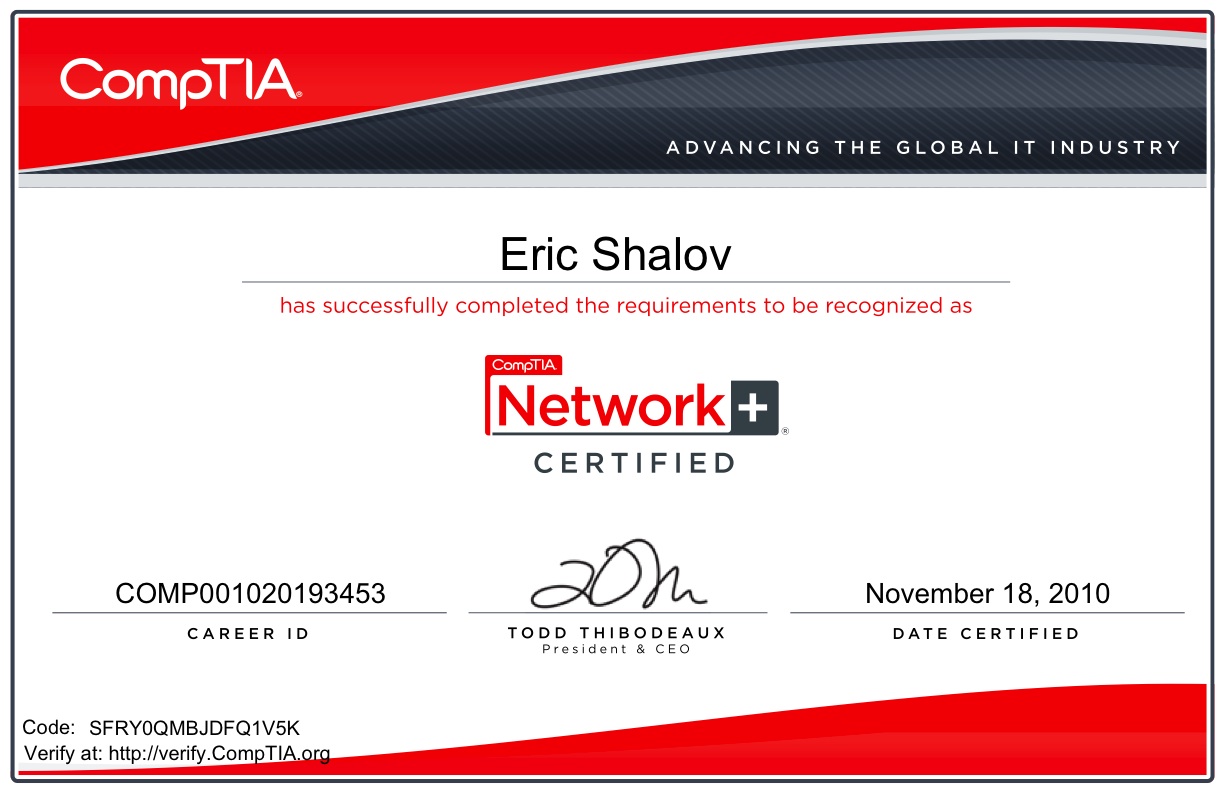 QUICK ENQUIRY
91-95007 10004
helpdesk@kalvigroup.com
91-95432 18687
helpdesk@kalvigroup.com