All Courses

Microsoft

MCITP: Enterprise Administrator on Windows Server 2008
MCITP: Enterprise Administrator training boot camp validates your ability to:
Design Windows Server infrastructures, evaluate and recommend new technology solutions
Serve as an escalation point for infrastructure issues
Develop client and server best practices for other teams, such as engineering, development, and operations
Keep policy current for authentication, identity, and access management
Provide guidance in implementing security policies that affect the infrastructure on multiple levels
Participate in application reviews on security and Ensure that the applications adhere to standard security guidelines and practices.

Koenig propose également en français les formations MCITP Enterprise Administrator. Les supports de cours et les examens sont aussi disponibles en français.

Other popular combinations with MCITP: Enterprise Administrator Windows Server 2008 training:
CCNA
CEH
VMware vSphere: Install, Configure, Manage [V4.1]

Specialized Certifications after MCITP: Enterprise Administrator Windows Server 2008 training:

MCTS: Microsoft System Center Configuration Manager 2007 (SCCM 2007)
MCTS: Managing System Center Operations Manager 2007 (SCOM 2007)
MCITP: Microsoft Lync Server 2010, Administrator
MCITP: SharePoint Administrator 2010
MCTS: Microsoft SharePoint 2010, Configuring

This Microsoft MCITP Certification is one of our most popular Boot camps. Book early to secure your seat and get a head start in your career.
Boot Camp Schedule for MCITP: Enterprise Administrator Training – Windows Server 2008
Course #
Course Contents
Exam #
Exam
Regular Track (days)
6292
Installing and Configuring Windows 7 Client
70-680
TS: Windows 7, Configuring
3
6421
Configuring and Troubleshooting a Windows Sever 2008 Network Infrastructure
70-642
TS: Windows Server 2008 Network Infrastructure, Configuring
5
6425
Configuring and Troubleshooting Windows Server 2008 Active Directory Domain Services
70-640
TS: Windows Server 2008 Active Directory, Configuring
5
6426
Configuring and Troubleshooting Identity and Access Solutions with Windows Server 2008 Active Directory
3
6418
Deploying Windows Server 2008
70-643
TS: Windows Server 2008 Applications Infrastructure, Configuring
3
6439
Configuring and Troubleshooting Windows Server 2008 Application Infrastructure
5
6435
Designing a Windows Server 2008 Network Infrastructure
70-647
PRO: Windows Server 2008, Enterprise Administrator
5
6436
Designing a Windows Server 2008 Active Directory Infrastructure and Services
5
Balance Daysfor day of arrival, exam(s) and practice
10
Total duration
44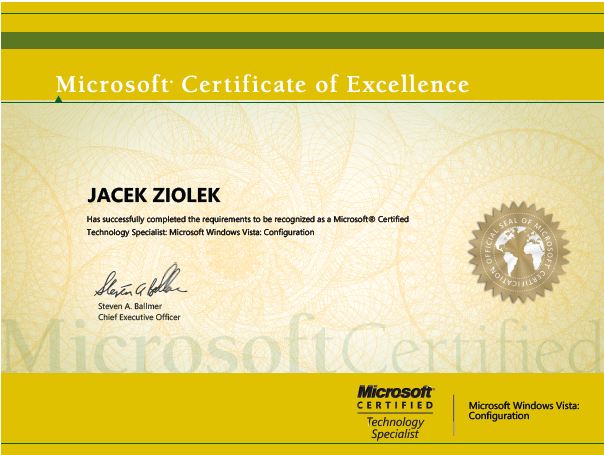 QUICK ENQUIRY
91-95007 10004
helpdesk@kalvigroup.com
91-95432 18687
helpdesk@kalvigroup.com